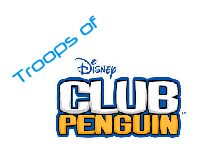 Troops of Club Penguin is a Club Penguin Army that is small, with only a few people
. Troops of Club Penguin is recruiting, and with many spots open, there is a good chance you'll get invited. Also, since there arn't many players, you'll also get a good rank.
Join Here
Join at troopsofcp.weebly.com/. All new recruits are welcomed and are invited to most occasions. Also, every new recruit has a private meeting with the General, or Colonel. Also, if you are not contacted in within 24 hours, you are not invited. Though, you will rarely get declined.
Ranks
NOTE: Please check the site for more details
General-Somthing4
Brigadier-Squishy Oop, Open
Colonel-Open
Lieutenant-Open
Sergeant-Open
Private-Open