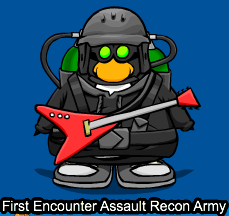 Generation
The F.E.A.R had a great and succesful short-going generation with maximum sizes of 12 in 3 weeks, they reached 2nd on SMAC in the 1st week and 5th in SMAP; Sadly, the F.E.A.R had a rapid amount of leaders, which caused the army to break apart, there were hardly any loyals, but they promise in the next generation (due to be Mid-June) they'll have trustworthy and fit for the job Leaders.
Sizes
The F.E.A.R were having small sizes of 6 at the start, and then at the end they started doubling.
---
--------------------------------------------------------------------------
We wish F.E.A.R to have a pleasent return in the future.
Ad blocker interference detected!
Wikia is a free-to-use site that makes money from advertising. We have a modified experience for viewers using ad blockers

Wikia is not accessible if you've made further modifications. Remove the custom ad blocker rule(s) and the page will load as expected.