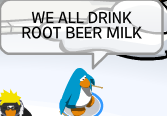 The Awesome Rockers is a band on Club Penguin.The members sing their own songs.
Macguy1 Created the band, and reunited 1 song called Perry the Platypus theme song
Songs
Perry the Platypus Theme Song re-peformed by the Awesome Rockers
He's a semi-aquatic, egg layin' mammal of action
He's a furry lil flatfoot,who will never flich from a frayyyyyyy
He's got More then just mad skills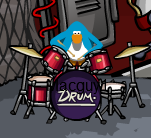 He's got a beaver tail and a bill
And the Agent says............
Back up singers: GO TEAM GO!
Hes *your name*,*your name* The Platypus
He's looking good in his 60s fedora
(Lookin good)
He has a sense of humor, When arround doofenshmirtz
Hes' got, More then just mad skills
THE END
The Ham Lovin song
Macguy switches to guitar*
Macguy: This will be the last
Back Up Singers: Do Wa Bop!
Macguy: ROOOOOOOOOOOOOOOOOOOOOOCK
(Crowd Goes Wild)
Macguy: I LOVE HAM,YOU LOVE HAM
WE ALL LOVE HAM!
Crowd: WE LOVE YOU MACGUY!
Macguy: HAM LOVEZ US
Macguy: WE LOVE ANY PRODUCT OF HAM
The END
Root Beer Milk quick song
Macguy: I DRINK ROOT BEER MILK!
YOU DRINK ROOT BEER MILK
WE ALL DO!
The Magnet Song
The Mangets!
The Mangets!
We get all magnets!
Theories of the mangets lead to card jitsu snow
And no one forgets
to pick up
their mangets!
The end