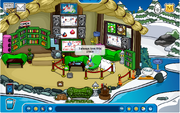 The Smackjeeves Room is a special room for the stars.
How was it created?
star kirby12 got a job on smackjeeves, making online comics. They gave him a room, which he shared with his team members. It is now their home.
Other Stuff
It is now in the authority of Boby33499.
If you can't see what star kirby12 is saying in the picture
He says: I always love this place
To Cyberbully
Please don't make a mess out of this
Why not? :(
Cuz you did enough to the other one.
Ad blocker interference detected!
Wikia is a free-to-use site that makes money from advertising. We have a modified experience for viewers using ad blockers

Wikia is not accessible if you've made further modifications. Remove the custom ad blocker rule(s) and the page will load as expected.