CPSEALS is a work in progress, newly made army created by Waluigi2011.
History
Waluigi2011 created CPSEALS on December 27, 2013. He wanted to make the most powerful army Club Penguin has ever seen! He is a former ACP and SWAT soldier. Through his experience he created CPSEALS, soon to be a #1 CP army.
Uniform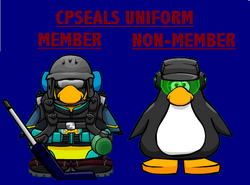 Waluigi2011 based the uniform on ACP and SWAT's uniforms in honor of their armies. His non-member uniform is dedicated to a SWAT admin known as Flames. He worked with Waluigi2011 since he started SWAT. 
Joining
People join CPSEALS by commenting something certain on the joining page on Waluigi2011's CPSEALS website. 
Website
Ad blocker interference detected!
Wikia is a free-to-use site that makes money from advertising. We have a modified experience for viewers using ad blockers

Wikia is not accessible if you've made further modifications. Remove the custom ad blocker rule(s) and the page will load as expected.