The Clubpenguin builders army was created on June 16, 2008 by Waddles0. He was the creator and leader of the army. It was a medium sized army. However, in November 2014 it has been declared that this army was seized by the Purple Republic and Neo-Purple Republic. neopurple.weebly.com
Main Colors: Green,Purple,and Yellow.
Current Leader: None..
Current Co Leader: None...
Current Servers: None..
Uniforms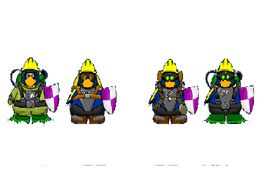 Here are some of the uniforms the CPBA members wear.

The non-members just wear mining helmets.
(PR)