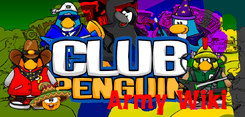 Welcome to the Club Penguin Army Wiki!! The only wiki of armies in Club Penguin!
Our History
Rise
This wiki was founded on January 7, 2009 by Clintos007. Many people in the army community help edit and add stuff to the wikia. However after a while the wikia started becoming more and more inactive. The wiki became so inactive that on 2011, Ultimate Legend Star Kirby12 adopted this wiki. The wiki became much more improved, and on January of 2013, Mixer2301 was promoted to help Ultimate Legend Star Kirby12. The CP Army Wiki had 2 full-time admins. 
Vandal Attacks and Fall
However, Mixer2301 became inactive here as he was mainly editing the Club Penguin Wiki, and Star Kirby was concetration on his Fanon projects at the Club Penguin Fanon Wiki. In the summer of 2013, the vandals attacked and destroyed nearly every pages. They uploaded a lot of SPAM images and videos (sometimes with offensive content), created pages with inappropriate content etc. Star Kirby returned and promoted Happy65 and Commander Bsyew to admins to help out. Happy65 promoted Penguin-Pal to an admin. However, when the trio became inactive, the vandals started coming again.
Re-Construction
On September, Mixer2301 returned and tried to cleared out the vandalism, but there were a lot of them, so he promoted an active user, Jayden1092 to help him out. The Wiki however wasn't that popular like it was back in 2009 but Jayden kept spam and false information off and blocked bad penguins. Jayden became a full-time admin and adopted the Wikia in the Fall of 2015. Jayden was the only active admin at the wikia and his main goal became preventing the Wikia from being defaced. Nonetheless he did upload new content and update pages from time to time.  
End of the Club Penguin Era
The ending of Club Penguin led to a revival in armies based off of private servers such as Club Penguin Rewritten and Club Penguin online. Since these communities are smaller, many used the Wikia as a way to advertise their army. With that came people who wanted to preserve the Wikia such as Bloodpanther73, Limboyeti and SavageCobra. All becoming admin before the fall of 2018.