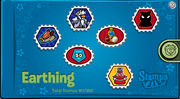 Exrate Army of cp(EA)
The Exrate army of Club Penguin was created by Earthling sometime in 2013.  
Multilogging scandel 
A while after the Exrate Army was created, the army was posted on the SMAC website stating that the Exrate army was multilogging and editing pictures, claiming that they were maxing 18+, when they really only maxed 4.
Banned from SMAC
After some SMAC reporters were investigating into the scandel of the Exrate Army editing photos, SMAC declared the Exrate Army banned for SMAC and may not be in any tournoments or any other SMAC event.
 Earthing Warriors
After Earthling and his army were banned from SMAC, a few weeks later he created another army known as the Earthing Warriors that would become a Club Penguin army that would only last for 3 months before surrendering to the Ice Hound army and the United Armies Alliance. 
Without a doubt, the Exrate army will always be remembered as an army that was similar to the infamous Purple Republic. Earthling tried his best to run a successful dictatorship but in the end he was banned from SMAC and the army was destroyed. 
Pages in category "Exrate army"
Media in category "Category:Exrate army"