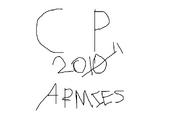 If you know any armies created in 2011 please add them here. 
Global Defenders http://globaldefenders.wordpress.com
Pugscparmy http://pugscparmy.wordpress.com
Team Macguy(snowball and wepaon army,Leader is Macguy)
Alien Army Association (Army featuring aliens.)
Car Racers Army
Red Drillers Army http://rdareddrillerarmyofcp.wordpress.com
Ad blocker interference detected!
Wikia is a free-to-use site that makes money from advertising. We have a modified experience for viewers using ad blockers

Wikia is not accessible if you've made further modifications. Remove the custom ad blocker rule(s) and the page will load as expected.